On September 1st 2023, a team from Medical Missions Foundation left the US for Uganda. On board were 30 volunteers coming from Kansas City, Denver, Sacramento, New York, New Orleans in the states as well as Canada. Their final destination is St. Mary's Hospital Lacor in Gulu, northern Uganda. The journey is long and could last more than 36 hours plus another 6-7hrs on the road from Entebbe International Airport to Gulu.
Every member on board knows exactly what lies ahead. Medical Missions Foundations has been coming to Lacor every year since 2012, except for the Covid years when travels were restricted. Each one is loaded with three bags of equipment, some of which are high-tech, cutting-edge technology that are very rare in the country.
What awaits the team is a crowd of more than 150 patients with burns and urological problems, most of whom are children and older men longing to be treated. They are bound to receive surgery for free. Lacor Hospital's mission is to provide affordable, quality and sustainable healthcare to the needy and to train professionals of high integrity, in witness of the church's concern for all.
Since its founding, the hospital has relied on the support of donors and well-wishers to advance this mission. Despite charging a modest fee, only 25% of the hospital's budget is financed by patient fees. Organisations such as Medical Missions Foundation help the hospital serve the most vulnerable who could not afford complicated surgeries.
As the team make their way to Lacor, Pepper Card, a volunteer nurse is already on the ground. She had arrived a week earlier to take care of accommodation, local cell phones setup, medication and other supplies as well as meet with the hospital staff. Card's work is very important in handling logistics while on trips, ensuring everyone is where they need to be and that supplies get to the right places.
Sister Rose is present to welcome the team on arrival and she takes them through the hospital and to their residence. The team barely has time to settle as the work load is more than meets the eye. More patients had arrived by Monday when the work begins and by this time, the number is beyond 250.
This number speaks of the demand with so much limitations on the part of the patient. They've come from all over the country and this camp is their only hope of going back home better. Work must begin immediately for the team that is staying only five days and soon, the operating theatre was a bee hive. Sister Jane, the theatre In-Charge could be seen running up and down.
Among those who have come is Walter Okello, the father of triplets born three months ago. His son Opiyo, the first of the three had a scrotal swelling. Walter has been in and out of the hospital, supporting his wife as the babies were born prematurely. They were born with reduced blood levels, requiring blood transfusion from time to time. With all this going on, Walter could barely afford clothing, food and transport to the hospital, let alone the surgery.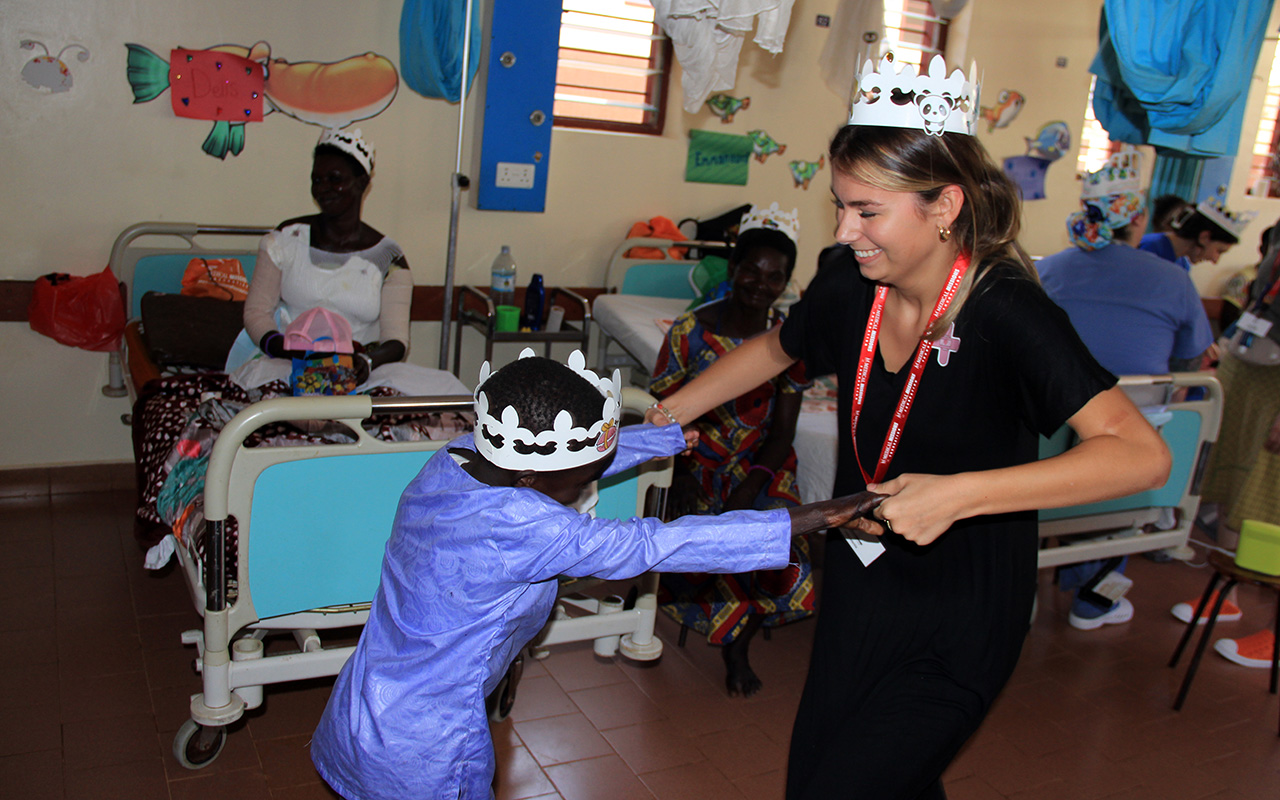 Another beneficiary of the camp is Filder Apiyo, 20-year-old resident of Pagoro in Amuru district. Filder had been battling a hernia ever since she was six. For most of the time, the swelling in her private part wasn't painful and so there was no urgency on her mother's side to seek medical attention.
But things changed quickly last year when she started experiencing abdominal pains. She was given medication to relief the pain but nothing much was done. Her fortune changed when she heard over the radio that a team of surgeons from the US were coming to treat conditions such as hers at Lacor.
We spoke with Filder after the surgery and she said; "I feel much better now. I was brought when I could not walk but now, I am able to walk on my own and the pain is gone. We paid nothing for the surgery. I thank the team that worked on me and I pray for them to continue helping others."
Dr Robert Khan, Dr Weaver and Dr Weber together with the anesthesiologists and nurses, performed TURP, Cystoscopy, burn and contracture care, Hydrocele, UDT in this underprivileged community of Northern Uganda.
While the surgeons were busy healing with their knives in the theatre, Sara Conrad, an occupational therapist and a few other volunteers were fully occupied in the burns' unit – making splints, helping people get their motion back and be as independent as possible.
"When people get surgery, it is not the best feeling but we hope that we could do things that could take their minds off that and bring some joy," said Sara on the sidelines of a small party they had organised in the burns unit to cheer up the patients. "My heart is full. It is a wonderful experience and I hope to come back as many times as I can."
Not far from the hospital, Sara's colleague, Carla runs a facility they call the "Burns Village" that takes care of patients that cannot afford to stay in the hospital and pay the fees but they still need dressing changes and a place to stay. "It's considered a very temporary, maybe an overnight whenever there's a need or if we have a patient that needs to stay for a couple of weeks, that's fine," she says.
Although the team managed to stay only for 5 days, they were able to perform 63 surgeries, train 344 members of staff and the Gulu Fire Brigade on Cardiopulmonary resuscitation (CPR), a lifesaving technique that's useful in many emergencies in which someone's breathing or heartbeat has stopped as well as donate medical equipment to the hospital and the training school.
"We like to bring extra supplies so that when we're done, anything that we have left over, we can leave behind for the hospital to use," says Dan Mauer, the Executive Director, Medical Missions Foundations. "We love being here in Gulu. We love to help the people of Uganda. Because we're only here for a short time, we have to prioritise all those patients and see which ones we can help and do the best that we can and unfortunately there's just a very large number of people we can't get to. That for us is very sad."
Michael Okiya, a 60-year-old man who has been struggling with enlarged prostate, praised the dedication of the team and appealed to Medical Missions Foundation to keep coming and doing more. "If you're to see the number of people attended to and the ones that remained, so many missed out," he said.
Although the team left, the Ugandan doctors led by Dr. Ronald Okidi took it up and continued with the surgery to benefit all who were already booked.